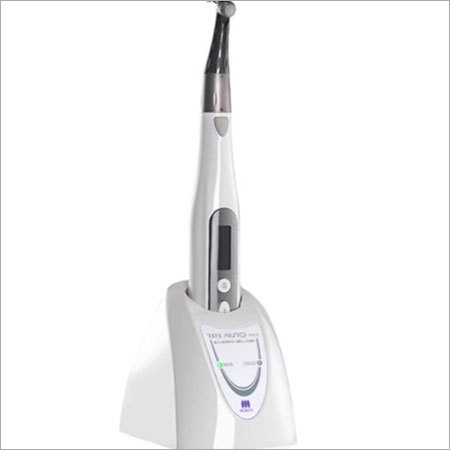 Triauto Mini Endo Motor
Product Description
Triauto Mini Endo Motor
Small head for excellent visibility: Head is only 9 mm in diameter.
Compact and lightweight: The compact and lightweight design of TriAuto mini provides excellent access and tactile feedback.
Automatic controls and settings: Rotation Direction: Forward and Reverse Torque Reverse: Nine torque reverse settings Auto Controls: Auto Torque Reverse and Auto Torque Slow-down.
Wide speed range: Eleven speed settings from 50 rpm to 1,000 rpm.
Easy to read LCD Display: Graphics, numbers and letters are easy to read. The display may also be reversed for left-handed dentists.
Backlight color identifies current conditions: The backlight changes color to alert the dentist when torque reaches its set limit and if TriAuto mini is connected to Root ZX mini, when the file tip goes beyond the apical limit.
Programmable settings: Various setting combinations can easily be programmed and selected.
Module system: When connected to the Root ZX mini with the transmission cable (both sold separately), the automatic controls are available for more efficient canal preparation.