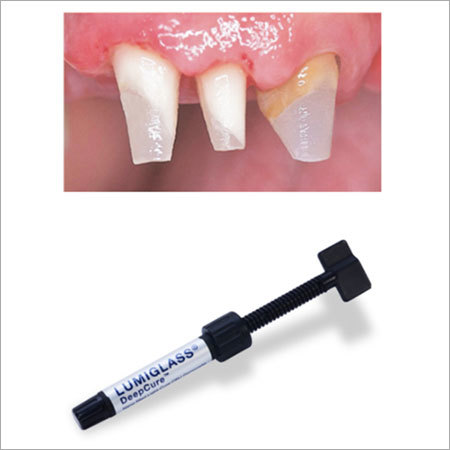 RTD Lumiglass Deep Cure
Product Description
Lumiglass DeepCure
Core Build-up Composite
LUMIGLASS DeepCure Core Built-up Composite is formulated to optimize and expedite the DT LIGHT-POST placement procedure. Light-Cured LUMIGLASS is translucent and can be easily cured in thickness of up to 11 mm* LUMIGLASS exhibits non-sticky handling characteristics for easy placement and sculpting. It is radiopaque and has high physical properties, to provide durable core build-ups. The esthetic neutral shade is ideal for use with porcelain jacket crowns and does not compromise the shade or optical properties of the ceramic prosthesis.
Physical Properties :
Depth of cure : 11mm

Flexural Strength : 114 ± 8 MPa

Microhardness : 28 knoop

Radiopacity : 230% A1. eq

Compression Strength : 234 ± 24 MPa

Water absorption : 24.7 µg / mm3
Water solubility :0µg / mm2
Available :

Syringe of 5 gms.